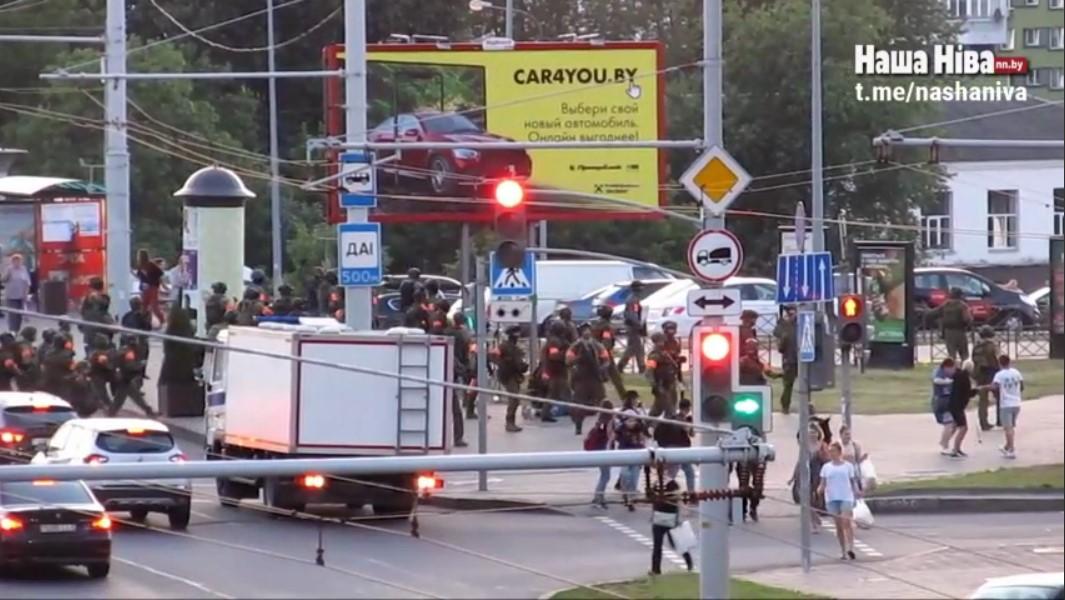 Snap from video
The newly-released eyewitness footage shows a Belarusian journalist being shot by one of the government troops, at an almost point-blank range.
The reporter in question is Natalia Lubnevskaya with the Nasha Niva outlet.
The armed man who was part of the uniformed squad of government troops (riot police or other units) approached the group of reporters sporting distinctive blue "Press" took aim and shot at one of the journalists, apparently without any obvious reason for engaging.
Belarus protests: background
On August 9, presidential elections were held in Belarus. The country's Central Election Commission announced the final election results. It claimed 80.1% of voters supported incumbent President Alexander Lukashenko, while his closest rival, political novice Svetlana Tikhanovskaya, gained 10.1%.
Thousands of residents of Belarus took to the streets to protest what they believe was a rigged vote count. Riot police violently cracked down on protesters.
Read alsoUkraine's MFA explains fundamental difference between Revolution of Dignity in Ukraine, protests in BelarusBelarus' Ministry of Internal Affairs said about 7,000 protesters had been detained in different cities since August 9.
On the evening of August 13, many detainees were released.
On August 14, the European Union announced it did not recognize the outcome of the presidential elections in Belarus, and on August 19 its leaders reportedly agreed on sanctions to be introduced over election rigging and violence against protesters.
The March of Freedom, the largest protest in the history of Belarus, took place on August 16 in Minsk. Hundreds of thousands of people joined in.
On August 20, the Prosecutor General's Office opened a criminal probe into the attempt by the opposition to "seize power."
Another massive rally was held in Minsk on August 23. In a propaganda video, Alexander Lukashenko was seen arriving in the presidential palace carrying an automatic rifle, along with his 15-year-old son sporting full tactical gear. Lukashenko addressed the riot police protecting the presidential palace, hailing their allegiance.