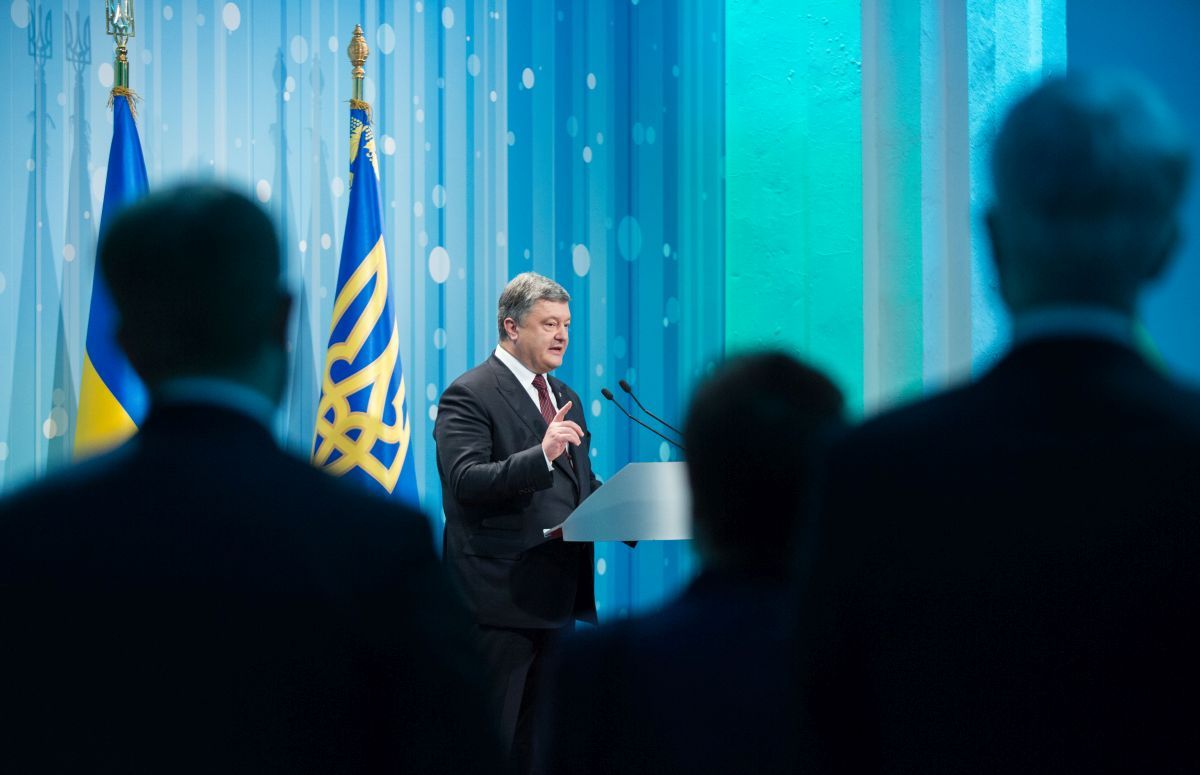 president.gov.ua
The Head of State stressed that the sanctions against the aggressor Russia should remain in place until Ukraine's sovereignty and territorial integrity are fully restored, including the return of Crimea.
"I believe that there should be no geographical boundaries or limits for "made in Ukraine" and "made for Ukraine". Also, I believe that through joint efforts and readiness for ambitious solutions and approaches we will be able to consolidate the existing achievements and open up new potential for our cooperation," Poroshenko said.
The President also expressed his gratitude to Ukraine's partners in the UN General Assembly, which in 2016 had their say in the matter of the Autonomous Republic of Crimea and the city of Sevastopol, securing Russia's status as an occupier state and aggressor.
The President noted that the resolution of the UN General Assembly adopted in December 2016 is a pointer in the issue of Crimea de-occupation and human rights on the occupied peninsula.
Poroshenko also said that thanks to joint efforts, a formula was found to unblock the ratification of the Ukraine-EU Association Agreement, and expressed hope that in 2017 the issue should finally be resolved.
The Head of State expressed his deep gratitude to the United States and called 2016 a year of high dynamics of Ukrainian-U.S. exchange and cooperation based on continued bipartisan support for Ukraine and expressed hope that Washington would continue to fulfill its commitments.
The president stressed the importance of support for Ukraine by international financial institutions, particularly the IMF, the World Bank and the EBRD, under the strong leadership of the United States. He noted that this support would remain an important element in ensuring the sustainability and effectiveness of Ukraine's reform process. "It allowed to stabilize the macroeconomic situation in the country in 2016 and strengthened the confidence of potential investors to start their own projects in Ukraine, possibly as early as 2017," said the president.
Poroshenko also thanked the G7 governments, particularly Japan, for their continued and firm support for the sovereignty and territorial integrity of Ukraine. He expressed hope that the Italian presidency in this association will demonstrate the same fundamental focus on the situation in Ukraine during 2017. The President thanked the governments of Lithuania and Poland for their support of Ukraine. He also said he hoped that this year would be "fruitful" in terms of cooperation with Israel as the maturity of partnership between the two states has been proved during the joint marking of the 75th anniversary of the tragedy of Babyn Yar.
Poroshenko stressed the strategic nature of partnership between Ukraine and Turkey, Azerbaijan. The president noted the critical importance of free trade with Canada, and stressed Ukraine's will to further develop its strategic partnership with China and to develop the potential for cooperation with the Middle East and Latin America area, expand relations with the countries of the African continent, in particular Egypt, Nigeria, and Morocco.