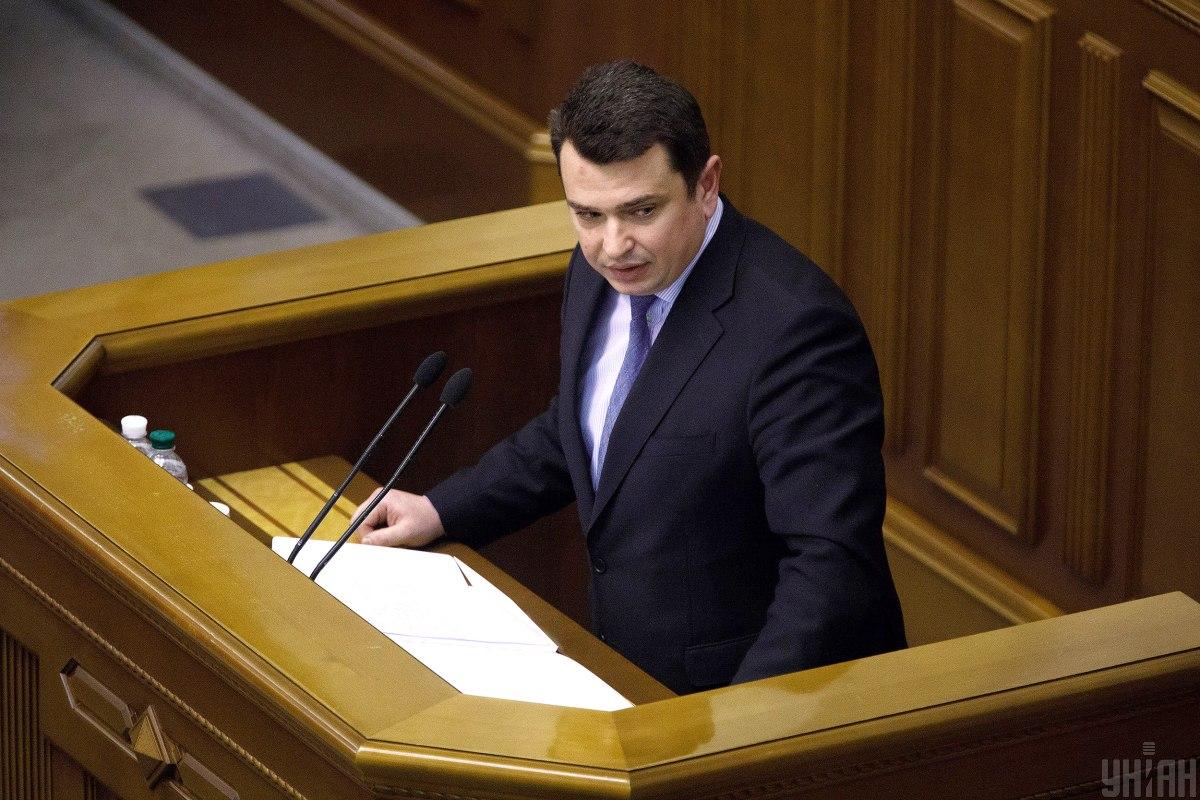 Artem Sytnyk / Photo from UNIAN
Ukrainian MP Andriy Derkach has addressed the Director of the National Anti-corruption Bureau, Artem Sytnyk, over the case involving the Burisma Group gas company.
The MP spoke Monday at a joint press conference with a former chief of a prosecutorial group with the Prosecutor General's Office for investigating economic crimes of the Yanukovych regime in 2016-2019, Kostiantyn Kulyk, following a presentation of a second part of the leaked recordings of what purportedly is communications between the ex-President Petro Poroshenko and ex-U.S. Vice President Joe Biden, an UNIAN correspondent reported.
"We appeal to NABU chief Artem Sytnyk to answer the following questions: why did companies close to Biden disappear from the criminal proceedings in [case #]1590? How did the case concerning a bribe of US$50 million end? If Burisma representatives were detained on a $6 million bribe, then where did $44 million go? Does NABU intend to summon for questioning any of Biden's contacts?" said the deputy.
The appeal followed a claim former prosecutor Kulyk voiced at the same press conference that in 2019 former ecology minister Mykola Zlochevsky, who had been in office during Viktor Yanukovych era, allegedly offered $50 million to shut the case involving Burisma .
Also, Kulyk claimed it was due to a change of prosecutor general that stopped the investigation into the bribe attempt: "Ruslan Riaboshapka came in and then the probe into that bribe attempt halted. Meanwhile, Riaboshapka said there was no such case whatsoever."
In an interview with LB.ua, Riaboshapka said: "There's no such thing as Burisma case. It only exists in the mind of those who invented it. There may simply be some proceedings in which the word 'Burisma' may appear. Maybe there are several such proceedings."
Ruslan Riaboshapka – who has been fired earlier this year to be replaced by Iryna Venediktova – dismissed Kostiantyn Kulyk in late November 2019 after the latter failed to undergo re-evaluation tests, according to a statement.
MP Derkach added that the main question is: "If there is no such case... then why did Burisma bring bags with millions of dollars in cash? What is left in case 1590 anyway except for [businessman Serhiy] Kurchenko's name and the Kherson oil transshipment station? Where are the papers related to financial monitoring related to Latvia and Cyprus: deleted, dissected, or disposed of? And what about the charges against [former ecology minister Mykola] Zlochevsky and why is he still not on the international wanted list?"
Derkach asked journalists to consider these questions as an official appeal to Artem Sytnyk.
Also, Derkach initiated the creation of a "large-scale Anti-corruption platform" that would investigate such cases.
As UNIAN reported earlier, citing the Telegraph, Ukrainian President Volodymyr Zelensky has asked that his country be left out of November's U.S. presidential election after a Ukrainian MP Andriy Derkach published tapes apparently intended to embarrass Joe Biden. 
Volodymyr Zelensky denied involvement in the first portion of leaks last month of conversations between ex-U.S. Vice President Joe Biden and former President of Ukraine Petro Poroshenko, his predecessor, and told the Telegraph he did not want the scandal to undermine Ukraine's strategic alliance with the United States. 
"Why is it necessary to drag Ukraine into this, again?" Zelensky told the Telegraph in an interview over Skype. "Now we are enjoying bipartisan support in the United States both in Congress and the Senate. We have the support of the president. These tapes are not a priority."
Read alsoPoroshenko-Biden calls: Ukraine starts probe into illegal interception of communications – media
Audio quality and background noises in leaked tapes of what MP Derkach says are phone conversations between Petro Poroshenko and U.S. officials suggest they were recorded on the Ukrainian side, in the office where Poroshenko held talks with his counterparts. Investigation has been launched into eavesdropping on presidential commuinications.
Last week, Ukraine received from the United States $60 mln worth of military aid, including Javelin anti-tank systems, to boost defenses and repel Russian aggression. The U.S. is also poised to sell Ukraine patrol boats, guns, and sensors worth a total of $600 million.
UNIAN memo. On June 12, three persons were detained upon the attempt to hand a $5 million bribe to the leadership of the National Anti-corruption Bureau and Specialized Anti-corruption Prosecutor's Office for closing the criminal proceeding targeting ex-ecology minister and president of Burisma Group Mykola Zlochevsky.
The case concerns his alleged complicity in embezzlement of the NBU's stabilization loan, which was issued to a bank controlled by businessman Serhiy Kurchenko, and the subsequent laundering of these funds. Currently, the investigation in this case has been suspended, while Zlochevsky remains on the wanted list. Law enforcers detained three persons in what appears to have been a sting raid.
Burisma said in a statement it had nothing to do with the matter, Reuters reported. It did not respond to a request for comment from the company's founder Mykola Zlochevsky. The Ukrainian company was thrust into the global spotlight last year in the impeachment inquiry into whether U.S. President Donald Trump improperly pressured Kyiv into opening a case against his rival Joe Biden for the November election race.
"Let's put an end to this once and for all. Biden Jr. and Biden Sr. do not appear in this particular proceeding," Nazar Kholodnytsky, head of anti-corruption investigations at the prosecution service, told Saturday's briefing.
The country's former prosecutor general told Reuters in June that an audit he commissioned while in office of thousands of old case files had found no evidence of wrongdoing by Hunter Biden while he worked for Burisma.