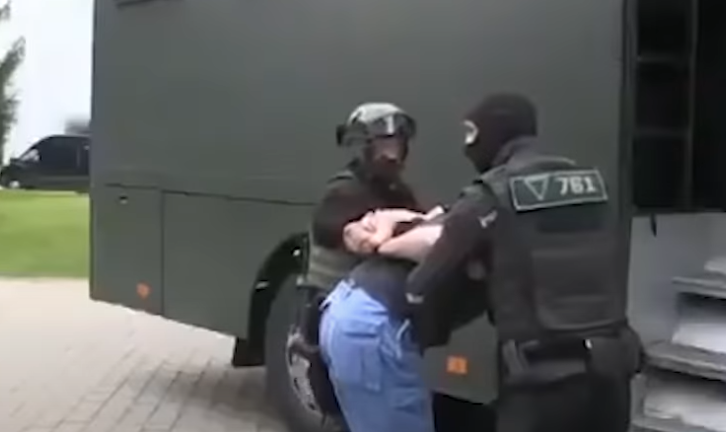 Snap from video
Ukraine has several options for a "mirror" response to Belarus for the hand-over to Russia of the mercenaries with the Wagner Private Military Company (PMC), detained earlier.
A source in diplomatic circles told the RBC Ukraine news agency such options include a temporary suspension of cooperation on extradition issues, cancellation of the Forum of the Regions of Ukraine and Belarus in Grodno scheduled for October, as well as freezing the work of various bilateral groups.
According to the source, suspending the extradition deal would be a mirror response to Minsk's demarche in the matter of Ukraine's appeal to extradite Wagner PMC mercenaries who had fought against Ukrainian Army as part of Russian occupation forces in Donbas.
At the same time, the diplomat said Belarusian law enforcement address their Ukrainian counterparts with inquiries more often than Ukrainians do.
Wagner PMC in Belarus: background
On July 29, a group of PMC Wagner troops were detained in Belarus – 32 were apprehended outside Minsk and another one – detained in the country's south. Among them were those who had fought against Ukraine in the Donbas war.
According to Belarusian law enforcement agencies, they had been tipped about the deployment of over 200 fighters to destabilize the country amid the election campaign.
Belarus turned to the Ukrainian authorities to verify the detainees' involvement in crimes committed in Ukraine. On July 30, Ukraine began consultations with Belarus on their extradition.
On August 7, President Alexander Lukashenko of Belarus said Ukraine had to prove the guilt of the detained mercenaries to seal the extradition. On August 9, Lukashenko said he had received a five-page letter from Vladimir Putin with information on the situation around the detention of Wagner troops.
On August 11, the Office of the Prosecutor General of Ukraine sent inquiries to their Belarusian counterparts, seeking the extradition of 28 PMC Wagner fighters. All 28, including nine citizens of Ukraine, had been charged by the Ukrainian authorities with participation in a terrorist organization.
On August 14, Belarus extradited 32 Wagner members to Russia.