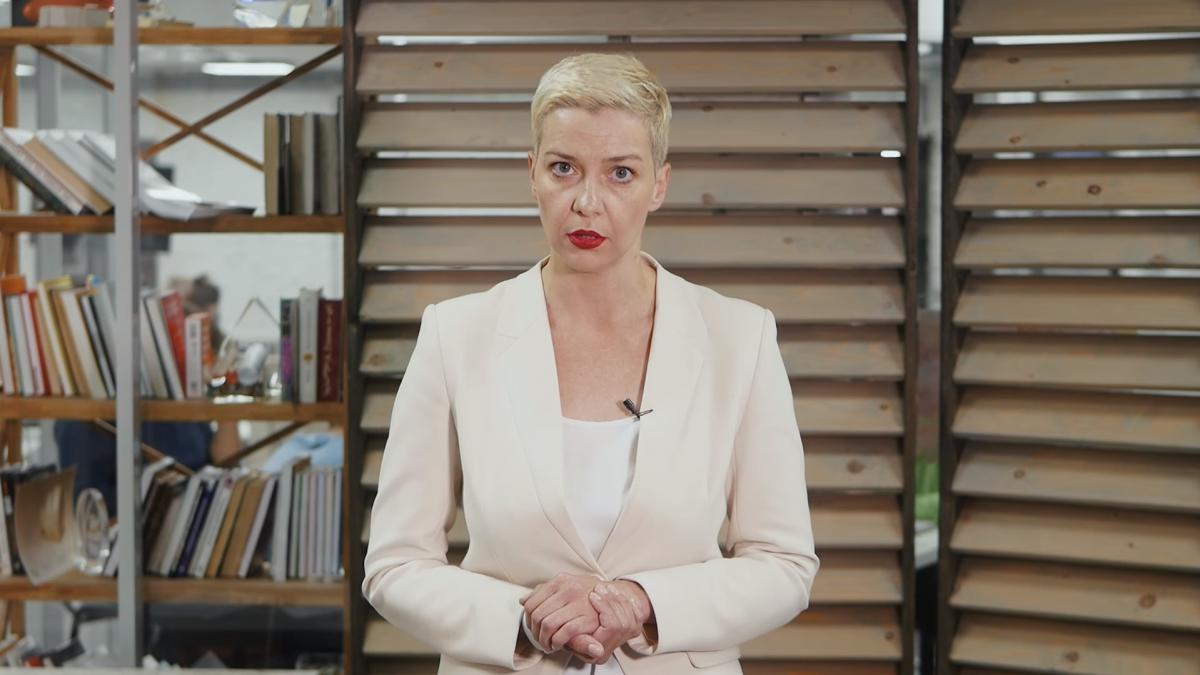 Snap from video
A representative of the recently created Coordinating Council for the transfer of power in Belarus, Maria Kolesnikova, has called on the country's military and law enforcement to side with protesters.
An emotionally-charged video address was posted on the Youtube channel of the ex-presidential candidate, Viktor Babariko.
"With their criminal orders, the government is pulling you to the bottom of hell made of women's screams, mutilated bodies, severed psyche, and collective trauma that will remain with Belarusians forever," the statement said.
Kolesnikova says people don't respect uniform anymore as it causes disgust in the light of the recent events.
Read alsoLukashenko to protesters: "No new vote unless you kill me"She has reminded law enforcers and military of their oath to serve the people of Belarus.
"Now you see their extermination. Why don't you stop it?" said the opposition politician.
In conclusion, she explained guarantees that are given to those servicemen who side with the people and refuse to follow criminal orders:
Safety and immunity
Fair treatment of units that will not carry out criminal orders;
Lifting of education debts, contractual debts, and other payments that the authorities impose on those willing to quit job or refuse to comply with criminal orders; and
Housing and material support for everyone who refuses to carry out criminal orders.
"We will build the security agencies of the new Belarus made of honest and worthy people wearing a uniform," Kolesnikova emphasized.
Belarus protests: background
On August 9, presidential elections were held in Belarus. The country's Central Election Commission said 80.1% of voters supported incumbent President Alexander Lukashenko, 10.1% voted for Svetlana Tikhanovskaya, 1.67% for Anna Kanopatskaya, 1.2% for Andrey Dmitriev, and 1.14% for Sergei Cherechnya. Some 4.59% voted against all candidates.
Read alsoUN condemns violent crackdown on Belarus protestsThousands of Belarusians took to the streets to protest what they believe is a rigged vote count.
Riot police violently cracked down on protesters. Belarus' Ministry of Internal Affairs said about 7,000 protesters had been detained in different cities since August 9. On the evening of August 13, the authorities started to release detainees.
On August 14, the European Union announced it did not recognize the outcome of the presidential elections in Belarus and on August 19 leaders reportedly agreed on sanctions to be introduced over election rigging and violence against protesters.
The Coordination Council was on August 14 initiated by Svetlana Tikhanovskaya, long-time leader Alexander Lukashenko's rival in the latest elections, who had proclaimed herself leader of the united opposition, to ensure a "peaceful transfer of power."
Lukashenko has repeatedly warned against foreign meddling in Belarus' domestic affairs. He had phone calls with his Russian counterpart Vladimir Putin. As a result, the Kremlin assured they were ready to provide "comprehensive assistance" to Belarus.
On August 20, the Prosecutor General's Office of Belarus has opened a criminal investigation into the seizure of state power in the country after Alexander Lukashenko said the founding of the Coordination Council was "an attempt to seize power with all ensuing implications."
Belarusian Defense Minister Viktor Khrenin at a closed-door meeting with military commanders on Thursday, August 20, said protests in Belarus could escalate into a civil war or a military conflict, therefore, if necessary, the army will shoot to kill.