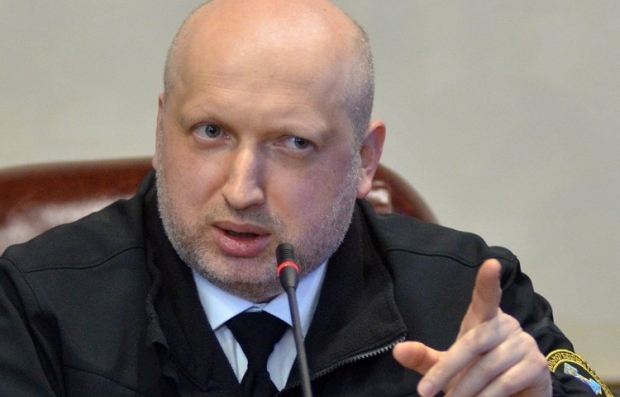 Turchynov said that the terrorists planned larger scale provocations / Photo from UNIAN
"Those who had planned provocations outside Rada on August 31, wanted them to be of a larger scale. There were plans to attack not with one but with seven grenades. According to the plot, the first granade would explode behind smoke screen in the ranks of the National Guard troops, provoking the guardsmen to use live weapons. By the way, according to the instruction, when attacked with live weapons, they are supposed to respond accordingly. After that, the other six grenades were supposed to be thrown at the windows of the parliament," said Turchynov.
According to him, the organizers suggested that the National Guard troops would use weapons  so that there were "numerous casualties among the protesters, and it would be practically impossible to establish  who was the first to open fire."
NSDC Secretary added that the organizers will face trial.
Read alsoTurchynov: Signs of planned deployment of more Russian military in DonbasTurchynov also allowed for the possibility of stripping several MPs of their immunity status if the investigation finds evidence of their involvement in organization of public unrest.
"If it is proved that they have participated in these actions directly, or as organizers, then it will be the case," said Turchynov.
As UNIAN reported earlier, a scuffle between the protesters and law enforcement officers began outside the building of the Verkhovna Rada on August 31 after MPs had approved the president-proposed Constitutional amendments regarding decentralization of power.
Protesters disagreeing with the amendments started throwing bottles, smoke bombs and paving stones at law enforcement officers guarding the parliament's building. Also, a defensive grenade was thrown at them. Three servicemen were killed, while more than 150 people received injuries of varying severity.
According to law enforcement agencies, the protests were organized by Svoboda Party, the Radical Party and some other political movements. As part of investigation of the criminal proceedings initiated regarding group violations of public order, mass disorder, causing harm to life and health of the police officers engaged in the performance of their duties, as well as illegal handling of weapons, about 30 people were summoned to appear at the Main Investigation Department of the Interior Ministry for questioning. Among them were Svoboda party leader Oleh Tiahnybok (Kyiv), Svoboda party member Yuriy Syrotiuk (Ternopil), head of Kharkiv regional party branch Ihor Shvaika, chairman of the social-nationalist movement "Social-National Assembly" Ihor Kryvoruchko (Kyiv region, Bila Tserkva city), Svoboda party activist Serhiy Boyko (Kyiv region, Brovary city), Svoboda party member Ihor Sabiy (Khmelnytskiy region, Kamianets-Podilskiy city).
As UNIAN earlier reported, President of Ukraine Petro Poroshenko said today about one more grenade, which was meant to be thrown at the window of the Verkhovna Rada.